In recent months we have started to get more and more e-mail requests for biographical information. We guess this is because "Search for information on an author" is a task set in Internet-related ELT materials. These notes give a professional ELT biography, and therefore miss out all the interesting bits! We have posted them to save time in answering so many e-mails.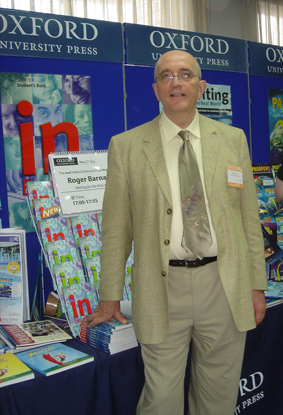 Peter Viney was born in Bournemouth, Dorset. He studied American Studies at Hull, then went on to do an MA in English & American Studies. His research MA on Hollywood & the Novel was supervised by Malcolm Bradbury at the University of East Anglia.
Karen was born in Cheltenham, Gloucestershire, and was brought up in Belfast, Northern Ireland before moving to Bournemouth. She studied Drama and Dance and qualified as a teacher of drama initially.
Peter started teaching English in 1967, (while at Hull) as a summer vacation job in Bournemouth.
Peter taught at the Anglo-Continental from 1971 to 1980, where he was Head of Elementary Studies from 1975 to 1980. He was involved in materials development from 1973, as well as teacher training on ACSE's courses for foreign teachers and ACSE's RSA Cert TEFL courses. He had responsibility for video and language laboratories at ACSE, and organized ARELS courses on Teaching Through Drama and Teaching Beginners.
At Anglo-Continental, Peter produced and acted in the regular "Drama Evenings" shows, and met Karen while doing a show in 1971. They wrote ELT sketches and full-length ELT pantomimes throughout the 70s. Karen also wrote internal language lab courses, self-study materials and pronunciation materials while at ACSE. Peter had been writing with Karen for five years before he met Bernard Hartley .
Peter's first book was an earlier version of Survival English with John Curtin for Mary Glasgow Publications. This was completely rewritten in the 1990s and republished by Heinemann. Karen wrote English Food in the Project GB series at the same time. Both were published before Streamline.
Peter and Bernard wrote Streamline English initially at Anglo-Continental. Streamline English was the first colour ELT book directed at adults . American Streamline and New American Streamline were equally successful and remain popular today. The accompanying Speechwork language laboratory course is one of the few available full language lab courses.
See: History of Streamline article
Peter and Bernard are co-series editors of OUP's Storylines series of graded readers, and Peter wrote several titles in the series. He has written other books on reading skills, including the six part Departures in Reading series, and specialized books on reading and writing for the Arab world with Bernard for Nelson and OUP. Peter and Karen co-wrote Striker! a court room drama for classroom use in the Penguin Readers series.
Grapevine and its American version Main Street were written by Peter and Karen. They had started writing ELT material together again in 1985 with A Weekend Away and have written as a team since then.
Grapevine offered a comprehensive video component for all levels. Peter and Karen have written eleven video courses for OUP. These are mainly comedy dramas. They have worked with major comedy directors such as Bob Spiers, Gareth Davies, Robert Reed and Tony Garner. A Weekend Away in 1985 set the pattern that most ELT videos have followed ever since. Mystery Tour received a Duke of Edinburgh Language prize in 1989. Only in America featured Edward Norton in the cast. English Channel 3: Double Identity received the IVCA Silver award in the education category in March 2000. They did the ELT adaptation of Wallace and Gromit in The Wrong Trousers and this was followed by more Wallace and Gromit adaptations of A Close Shave and A Grand Day Out.
Peter also completely re-wrote Survival English (with John Curtin) and then wrote Basic Survival aimed at adults interested in English in a work or holiday situation. These are major courses for Macmillan Heinemann ELT in American English aimed at Pacific Rim countries. They were republished in completely revised editions by Macmillan in 2004, as New Survival English / Survival English New Edition and New Basic Survival / Basic Survival New Edition.
Peter and Karen wrote Handshake: A Course in Communication which is a highly innovative ELT course with its syllabus based around communication skills.
Their latest publication is In English, a major new course at three levels - Starter (2003), Elementary (2004) and Pre-Intermediate (2005), In English has a Students Book at each level, complemented by a Practice Pack containing a Vocabulary Practice Book, a Grammar Practice Book and a free audio CD with audio exercises.
Peter has done teacher training talks and lectures in many countries.